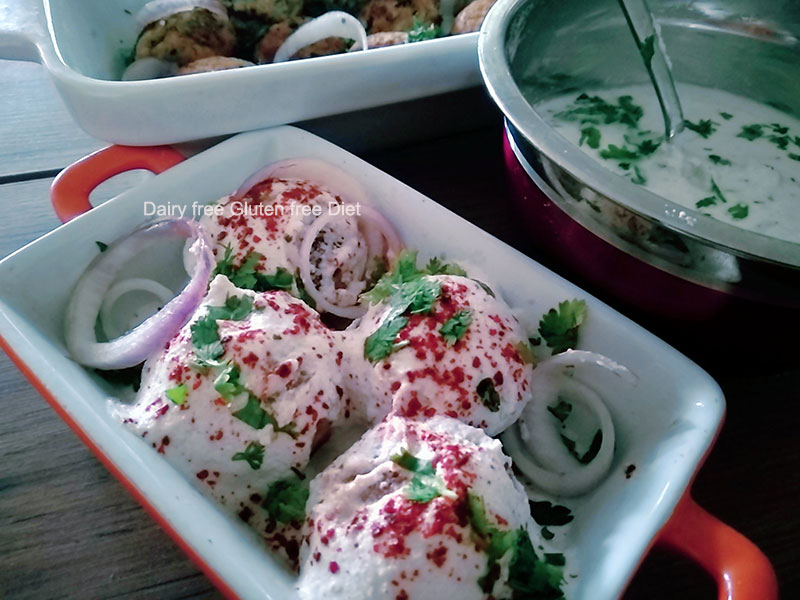 06 Dec

Black-Eyed Peas Dahi Vada | vegan

Black eyed peas (लोबिया / चवळी / காராமணி / വലിയ പയറ് / ಅಲಸಂದೆ) is a popular legume used widely in Indian cuisine. This Black-Eyed Peas Dahi Vada is a non fried snack with non diary curd.

Amusingly, when I googled "black-eyed peas," I found a lot of results of the famous American hip-hop band. ? Jokes apart, these cream coloured beans with a black speck that resembles an eye tells us how it got its name from. With its firm texture and nutty flavour, they make a yummy side dish. Being an excellent source of complex carbs, fibre and many essential vitamins and minerals and so full of good nutrition they're both a protein food and a vegetable. Interestingly, some cultures consider black-eyed pea consumption a sure way to start off a prosperous and good luck-filled new year. So, they are not only healthy, they are lucky too. ?

Dahi Vada!! Vadas dunked in spiced Dahi (curd / yoghurt)! No Indian feast is complete without this popular and delicious dish. Although in South they spice the curd with chillies and coconut paste, in North they use sweet tamarind chutney. Dahi being probiotic that helps in digestion, Dahi vada forms an integral part of any celebration that serves heavy food in our culture.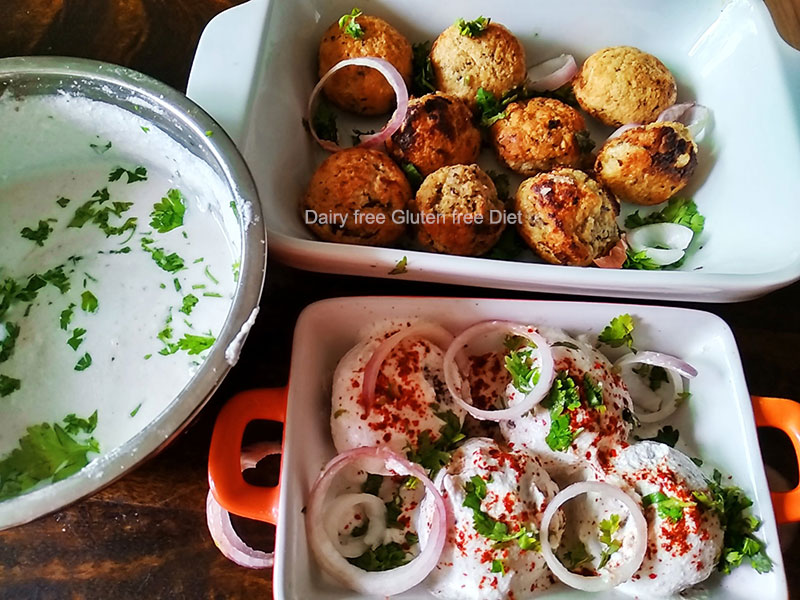 What is different in this Dahi Vada?
This Black-Eyed Peas Dahi Vada is a healthier version. I have always insisted on using whole lentils more in your diet as against split ones. Though these are beans / legumes and do not fall under lentils, being whole, they are more nutritious.  I have used my cast iron Appe pan to fry the vadas without oil. Non stick appe pans are widely available. But I do not use non stick pans. However, you are free to use them if you have no reservations. And I have used my peanut curd for making this Vada. It is neither South Indian nor North Indian type. I just used my homemade Chaat masala to spice up the curd.
You can have these vadas without spicing up with curd too. Serve them as such with spicy green chatni & sweet tamarind chutney. They taste yummy.
New Year is not far off. Let us ring in the New year with these Black-Eyed Peas Dahi Vada and make 2020 a Lucky Year for us.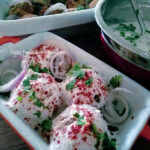 Print Recipe
Black Eyed Peas Dahi Vada | vegan & non fried
Ingredients
½ cup Black eyed peas

2 tbsp Channa dal

2 to 3 green chillies

1" piece ginger

salt to taste

1 cup peanut curd

(dairy curd for non-vegans)

1 tsp chaat masala

1 tsp salt for Dahi
Instructions
Soak black eyed peas and channa dal together for 4 hrs.

Grind to a coarse paste adding green chilli and ginger.

Try to grind without adding water. If you find it difficult, just add 1 tbsp water.

Heat an Appe pan (appam pan), place the balls, cover and cook them on slow fire.


Keep turning till all sides brown equally.

In the meantime, beat the peanut curd with chaat masala and salt.

Pour over the vadas and garnish with chilli powder & coriander.